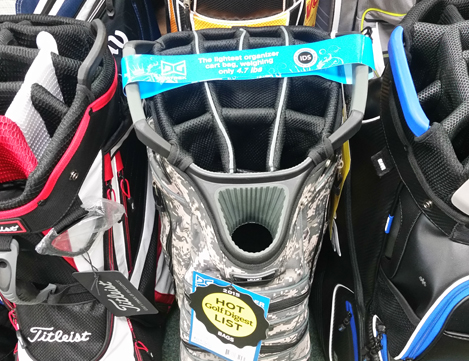 Choosing Your Golf Bag
Your golf bag is essential to your golfing experience. That is why Illini Golf Headquarters offers top-of-the-line golf bags to our Central Illinois customers. We know exactly what you're looking for when you're searching for the perfect golf bags: functionality and style. You will find both in the selection of golf bags in our store! Learn about the following kinds of golf bags we offer both for men and for women:
Carry Bags
These golf bags are small, lightweight, and portable so that you can carry your own golf equipment on the green. They can hold your clubs and a few other accessories, like balls, towels and tees; and they often come with a built-in stand to hold them upright while you make your shot.
Cart Bags
Cart Bags are mid-sized bags are designed to fit—as the name implies—on the back of a hand-wheeled or motorized golf cart. The extra space in these golf bags allows you to carry additional golf equipment including food, cold drinks and other items that can make golfing more enjoyable.
Staff Bags
These golf bags are the Rolls Royce of golf bags. Not only are they luxurious, roomy and hefty, but they also display brand logos prominently for all to see. If you are looking for a golf bag worthy of a Tour, this is the golf bag for you.
Brand Name Golf Bags
Oftentimes, golfers are loyal to the brand names that helped them achieve greatness on the green. Check out the following brands we offer below:
Bag Boy
Bridgestone
Callaway
Cleveland
Cobra
Datrek
Mizuno
Nike
Ping
Powerbilt
Srixon
TaylorMade
Titleist
Tour Edge
Wilson
And more!
Get Your Golf Bags Today!
Contact Illini Golf Headquarters online, call 309-685-4653, or come visit our store today. Our friendly, knowledgeable staff will give you the outstanding service you deserve. For more golf items, please visit the following pages: