Want an accurate measurement from your tee to the flag? Sometimes measuring distance with your eyes just doesn't cut it. That's where golf rangefinders can help.
Golf rangefinders are common alternatives to Golf GPS units. They use laser technology to measure distances to various targets with utmost precision. This allows you to adjust your swing accordingly and improve your game. That is why Illini Golf Headquarters offers golf rangefinders to all of our Central Illinois customers.
How Do Golf Rangefinders Work?
To use a golf rangefinder, point the laser at the intended target. The light from the laser will bounce off the target and return to your handset. By reading the time it took for the signal to return, the device will calculate the distance you are from your target.
You can point these golf rangefinders at anything that you think would help improve your knowledge of the course and your game: flags, bunkers, trees, etc… It is also very useful on the practice facility.
Many golf rangefinders can also measure changes in elevation or other factors affecting your shot, such as temperature. Note that these features may not be permissible during competitive play, but they can be disabled for a tournament.
When Should I Use a Golf GPS Instead of a Rangefinder?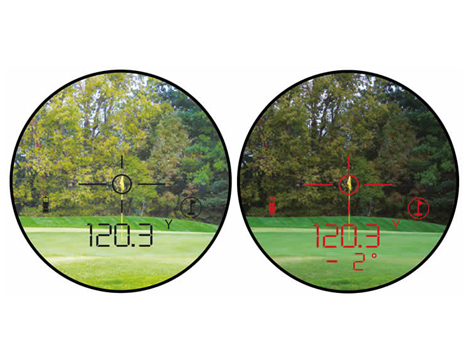 Golf rangefinders can be more precise than Golf GPS systems in regards to measuring distances. However, there are two main reasons we would recommend using a Golf GPS over a rangefinder: When the weather's bad and when your visibility is low. If it's raining or foggy or even extremely sunny, this can disrupt the signal of your rangefinder. If your target visibility is low or nonexistent—for example, when you encounter a dogleg—the golf rangefinder may not be of much use since it needs a line-of-sight to measure properly.
Our Brands
Check out our favorite brands of golf rangefinders below:
Bushnell
Callaway
Golf Buddy
Purchase Your Golf Rangefinder!
If you want to improve your game, get one of our golf rangefinders today. Contact Illini Golf Headquarters online, call 309-685-4653, or swing by our store and our knowledgeable staff will give you outstanding service. Or for more, please visit the following pages: