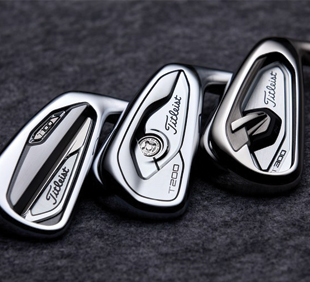 Titleist T-Series Irons
STRIKINGLY NEW. PURE TITLEIST.
T-Series Irons represent an entirely unique approach to iron engineering built from the ground up. Powered by breakthrough technology – including new Max Impact – they deliver a balance of power and performance, unlike anything we've ever made. And yet, with one swing, you'll feel they are 100% pure Titleist.
Tighter Dispersion By Design
Titleist engineers use their expertise in cavity shaping and tungsten weighting to create irons that perform better on every strike. From the precision balance of T100 to the consistent distance of T200 and engineered forgiveness of T300, T-Series irons are designed to land every shot closer.
Steeper Descent Angle:
The Power To Drop It And Stop It
An iron shot that flies far but can't hold the green does little to improve scoring. The angle of descent produced by each T-Series iron strikes the ideal balance between adding distance and preserving stopping power.
MAX IMPACT
T200 and T300 irons are powered by Max Impact Technology, a striking innovation that extends maximum speed across the entire face while preserving superior sound and feel.