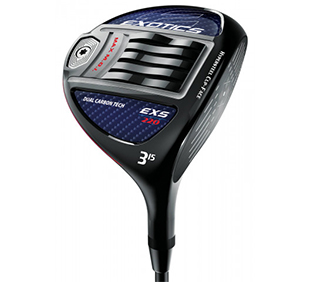 Tour Edge EXS 220
PRODUCES A HOTTER FACE WITH FASTER BALL SPEEDS, REDUCTION OF SPIN AND BETTER PERFORMANCE ON OFF-CENTER HITS.
MAX M.O.I. DESIGN
PROVIDES EXTREME FORGIVENESS OFF THE FACE AND INCREASED ACCURACY FROM THE ADJUSTABLE 6-GRAM BACK WEIGHT.
FEATURED IN THE HEEL AND TOE OF THE SOLE TO HELP CREATE EXTREME WEIGHT SAVINGS.
SLIPSTREAM SOLE
FEATURES IMPROVED WIDER SPEED CHANNELS THAT CREATE A FASTER CLUBHEAD SPEED DUE TO SMOOTHER TURF INTERACTION.
SOUND DIFFUSION BAR
USED TO IMPROVE THE ACOUSTIC ENGINEERING BY ENHANCING THE RICHNESS OF SOUND UPON IMPACT.
We tested an extensive range of market-leading shafts with the Tour Edge Developmental robot or T.E.D. to determine the best performing custom shafts for every swing flex/speed. The below results with the EXS 220 Driver show you how SpeedTested data helped us provide every swing speed with the optimal shaft and performance.
​
85 MPH or below: Fujikura Air Speeder: Ladies (R3) | A-Flex (R2) | Regular (R)
85-95 MPH: Fujikura Ventus 4T Core: 6-Regular | 6-Stiff
95 MPH or above: Project X HZRDUS Smoke Yellow: 60g 6.0 Stiff |  60g 6.5 X-Stiff